Photo credit: Working with laptop, by len-k-a
There are thousands of companies out there who are more than willing to pay for your opinions regarding their products.
This is an important part of product research, and they rely on people just like you for your honest opinion!
Imagine getting paid for doing things like:
- Trying out new menu items from popular restaurants
- Take short surveys about new cars that are coming out soon
- Give your opinion about new clothing and shoe designs.
---
SurveyDownline (US, CAN, UK, AU)
-- Sign up and get paid to take surveys from SurveyDownline.
Opinion Outpost (ALL)
-- Opinion Outpost conducts surveys because businesses, governments, public bodies, and similar organizations are interested in the views and attitudes of the people who use their products and services. The more they know about what customers and citizens think, the easier it is for them to improve and adapt what they supply. Take Surveys to give your opinion and shape the future.
Rewards include get cash, Amazon gift cards, game points, donations to your favorite charities, and more. Everyone is also automatically entered to a $10,000 sweepstakes by joining and taking surveys. The minimum cash out for Paypal is $10 and only $5 for Amazon gift cards.
Toluna - Get Rewarded for Surveys and Polls (US)
-- Surveys made just for you: Give your input to brands and corporations while influencing future products and services.
Your time is money: Share your opinion to win gifts, cash, and test products
Discover what the world thinks: Find out anyone and everyone's opinions, poll your friends and start discussions, share your views with others
.
My Soapbox (US)
-- Register for a
MySoapBox
account to share your opinion and accumulate points that can be redeemed for prizes and gift cards for stores like
Bath and Body Works, CVS, Lowes, Chili's
, and more.
MySurvey (US)
-- Start earning points by completing online paid surveys anytime and anywhere via PC, Laptop, Tablet, Cell Phone or Mobile App.
How to Redeem?
We have a huge variety of products, gift cards, e-certificates, vouchers, money and so much more! You can also choose to receive payment through your PayPal account and make money online.
National Consumer Panel (US)
-- Sign up with National Consumer Panel and voice your opinions to help manufacturers and retailers make decisions on what products to develop or improve.
NiceQuest (US)
-- You can earn gifts and prizes just by answering surveys online. Members receive points for each survey they complete and are redeemed for hundreds of different gifts in an online shop, including electronics, cosmetics, movie tickets and more. It's INVITE ONLY so sign up today! if accepted you'll receive a confirmation email and a first survey. When you complete the first survey, you will earn your first points to jump-start your earnings.
SurveyDownline (US, CAN, UK, AU)
-- Sign up and get paid to take surveys from
SurveyDownline
. Participating in online surveys is an easy way to earn extra money in your spare time. Paid surveys are easy to fill in at any time of the day or night. Even the busiest of people can take a paid market research survey in a few moments. Residents of The United States, United Kingdom, Canada and Australia can take paid surveys and earn cash for their opinions.
Vindale Research (US)
-- Get paid to review products with
Vindale Research
.
HOW IT WORKS:
• Take simple surveys online
• Receive up to $50 per survey completed
• Make a difference by sharing your opinion
• Get paid in CASH, not points or gift cards
---
Get $50 for your first survey! (US)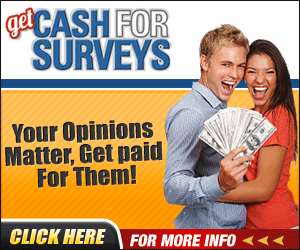 Have you heard of this guy - Gary Mitchell? His story is so inspiring and awesome!
Find out how this struggling, single dad was able to get out of debt, and start making $3000/month simply by taking online surveys!
Gary shows you proof of how he did it, and is going to show you exactly how it is possible to make a living right at home using just your computer!
Gary has single-handedly put together the largest database of companies that hire people just like you, to give their opinions on products.
Click to Make Money Taking Paid Surveys
When you join
GetCashForSurveys
today, you will receive $50 free when you take your first paid survey!
When you join, you'll have access to all of these companies - hand selected by Gary Mitchell.
Taking a few paid surveys in your spare time can really make a difference in your income.
Try it out, and remember, you get $50 for your first paid survey!
Click to Make Money Taking Paid Surveys
(US only)
NOTE -
If any of the above links are not working or the freebies or coupons no longer available, please post a blog comment below and I'll edit it!
Category: CB, earn money, feature, free money, MySavings, surveys