Today's Giveaway is "So Few Memories, So Much Love", a memory book for pregnancy loss and a beaded baby name memory bracelet, retail value $16.00. (Thanks to Born to Love, a natural baby product company)


This sweet hand-made beaded baby memory bracelet is similar to what they used to give babies born years ago in the hospital. It will be personalized with your baby's name or month of loss or simply the word "baby" in letter beads, with pink and/or blue beads, and red hearts which symbolize the love you have for a precious baby no longer with you but still very much in your heart and memory.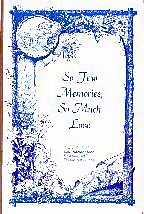 "So Few Memories, So Much Love" is an exquisitely-detailed baby memory book. Specially-created to help record the events prior to, during and following the loss of a baby through early miscarriage. This long-awaited baby memory book:

♥ Gives you permission to grieve
♥ Helps you to work through the process of grieving and the pain of loss
♥ Offers a place to express your thoughts, feelings and emotions of your baby's loss
♥ Embraces the importance of mourning your baby
♥ Helps to promote the positive resolution of your grief
Created by the Executive Editor of Shattered Dreams, who delves into her own experience of multiple miscarriage to choose the meaningful events to commemorate.
PLUS...healing suggestions for memorializing your baby ...listings of normal grief reactions ...and poignant poetry. This baby memory book will become a special source of comfort and remembrance for now and for the future. Perfect for gift giving to a bereaved mom.
Comb-bound, heavy-duty stock cover, 24 pages, includes a MEMORIES storage envelope.
Winning is easy!!
To enter to win this baby memory book & bracelet, follow these simple steps and leave a separate comment for each step completed. I will choose one random comment using the Random.org integer generator, so the more comments you leave, the more chances you have to win these great products! Only relevant comments will be accepted. Your Giveaway prize is always free, there is no entry fee, no shipping & handling fee.

1. Leave a comment about where you found out about this giveaway. (1 entry)
2. Follow Frugal Freebies on Twitter, FaceBook or Networked Blogs and leave a comment that you did! (1 entry)
3. Steal our
Frugal Freebies
Giveaway button and leave a comment about where you put it! (1 entry)
4.
Twitter
this giveaway and leave a comment that you did! (1 entry)
5. Blog about this giveaway and leave a link to your blog post! (1 entry)
6.
Follow
the Frugal Freebies blog! (1 entry)
7.
Stumble
,
Buzz Up
or
Digg
Frugal Freebies and leave a comment that you did! (1 entry)
8. Visit
Born to Love
and leave a comment about an item from the site that you would love to have. (1 entry)
9. Make a purchase from
Born to Love
using coupon code Giveaway for 10% off your total order. (10 entries)
Born to Love has been in the baby business since 1978 run by a work-at-home-mom of 3. Born to Love carries all sorts of natural baby products, including cloth diapering supplies, and is currently selling off their inventory, so Frugal Freebies wants to help do so quickly. Remaining stock is limited, but there is still lots of product available. There is an on-going tax-free sale, as well as a 10% discount code (Giveaway) to help you save money while you shop for your little one(s).

Who is eligible:
This giveaway is open to World-wide entrants. You don't have to be a blogger to win, just supply a valid e-mail address or sign up to
Prizey.net
, if not comfortable leaving your email on a public blog.

When the giveaway ends:
Two weeks from posting. This giveaway ends on July 31/09. I will e-mail the winner, and results are always posted here as well. If the winner doesn't respond within four business days, with contact details, a new winner will be drawn.


I am also submitting the winner info to
PRIZEYWinners
so, if you wish, you can check there to see if you've won your giveaway. This offers readers the opportunity to check there without the inconvenience or security risk of offering up personal emails in public blog comments.

Thank you to Sweeties Sweeps and The Lucky Ladybug for listing my blog giveaway.
---
Announcing the winner:
The winning number is #22 - Zackery's Mom. Congratulations!
---
Don't miss our Weekly Giveaway from Frugal Freebies - You have to enter to win!
Still Reading Commercial Emails For Free?
Receive Emails On Topics That Interests You And Get Paid For It!
Get $10 Just to signup!