Today's Giveaway is
"Changing Times: Cloth Diapering Today"
by Pat Bowerman, original retail value $14.00. Printed on recycled paper. Soft-cover, 232 pages, 9" by 6" (23cm by 14.5cm)
Own a piece of Canadian cloth diapering history!
Published in 1990, during the height of the
Great Canadian Cloth Diaper Revival,
this was the cloth diapering
"bible"
of that time! Though now out-of-date, it is filled with timeless information on choosing and using cloth diapers. If you are trading and buying used diapers online, you will find this book an invaluable resource on some of the diapers you will come across.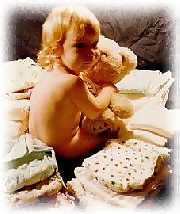 Honest, accurate descriptions written by a mother with first-hand experience, NO SALES MOTIVE, and a genuine interest in spreading the word -
"Cloth Diapering is Easy!"
The back covers says: The only book of its kind!
Changing Times - Cloth Diapering Today
brings cloth diapering into the '90s, with a detailed description of new and innovative products most Canadians have no idea exist!
More info on
Changing Times
here
.